When registering a push campaign, you can create a template that can be used in the body field.
You can save time by creating a similar message template that's used repeatedly in advance and use the template to create a new campaign.
List

Registered title templates can be viewed in the form of a list. You can search for registered templates by entering the title of the game and the template.
Templates are divided into [My Template] and [Shared Template].
My Template is a template created by the user who is currently logged in and can only be used by the creator.
A Shared Template is a feature that can be specified by the creator or administrator and is shared with anyone who has access to the corresponding game and the template menu. A button that allows modification will be displayed for a template you created within the shared template.
Click the Register Template Button to enter the template creation page.
Creating a Message Template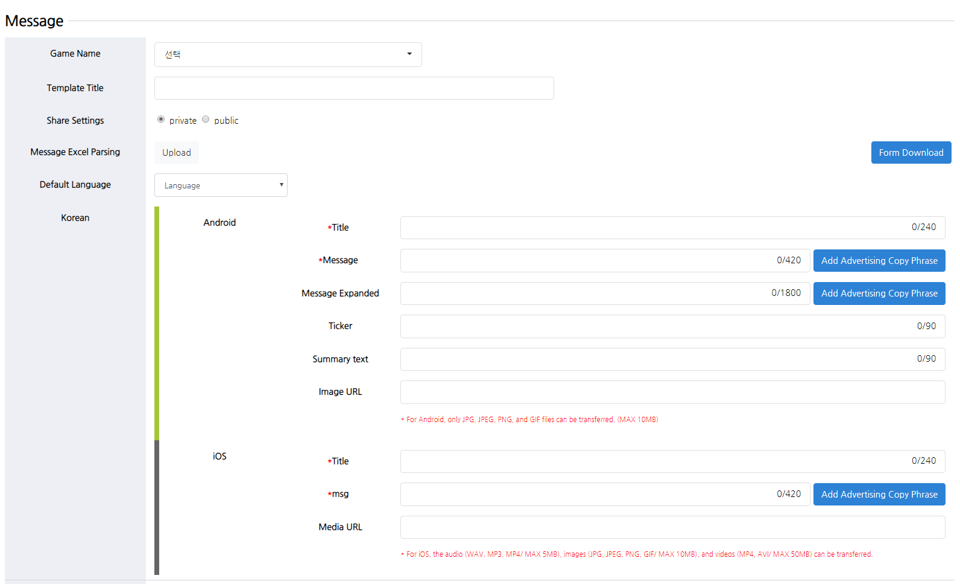 It's a page where you can write or modify details.
Select the name of the game that you want to use this message template for and enter the title. The created template can only be loaded when you create a campaign for that game. The template title is used for searching.
When creating a template, you can also load files to register a template more quickly in the same way as the campaign registration.
Click the Form Download Button on the right of the Excel Message Parsing area to download a template that can be used to make an upload file.

The first time you download a template, the contents will be empty and the template will only contain headers. Please fill out the required field as shown in the upper sample. The rightmost "isDefault" column indicates which language should be designated as the default value, and you only need to enter Y in one of the languages.
You can enter messages in all 16 languages in advance in the same way as the push campaign registration.
If you check the Share Settings field, the template will be registered as a shared template allowing users who have permission to access the corresponding game as well as the template menu. If you don't check the box, only you (the creator) can use the template.